Publication of IMPRS-LS student Katarzyna Jonak
Publication of IMPRS-LS student Katarzyna Jonak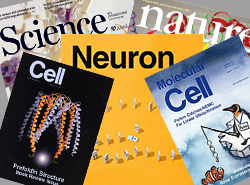 Jonak K, Zagoriy I, Oz T, Graf P, Rojas J, Mengoli V, Zachariae W.
Cell Cycle, 2017, [Epub ahead of print].

APC/C-Cdc20 mediates deprotection of centromeric cohesin at meiosis II in yeast.

Cells undergoing meiosis produce haploid gametes through one round of DNA replication followed by 2 rounds of chromosome segregation. This requires that cohesin complexes, which establish sister chromatid cohesion during S phase, are removed in a stepwise manner. At meiosis I, the separase protease triggers the segregation of homologous chromosomes by cleaving cohesin's Rec8 subunit on chromosome arms. Cohesin persists at centromeres because the PP2A phosphatase, recruited by the shugoshin protein, dephosphorylates Rec8 and thereby protects it from cleavage. While chromatids disjoin upon cleavage of centromeric Rec8 at meiosis II, it was unclear how and when centromeric Rec8 is liberated from its protector PP2A. One proposal is that bipolar spindle forces separate PP2A from Rec8 as cells enter metaphase II. We show here that sister centromere biorientation is not sufficient to "deprotect" Rec8 at meiosis II in yeast. Instead, our data suggest that the ubiquitin-ligase APC/CCdc20 removes PP2A from centromeres by targeting for degradation the shugoshin Sgo1 and the kinase Mps1. This implies that Rec8 remains protected until entry into anaphase II when it is phosphorylated concurrently with the activation of separase. Here, we provide further support for this model and speculate on its relevance to mammalian oocytes.
---
30. May 2017 - 11:55