Publication of IMPRS-LS student Markus Höpfler
Publication of IMPRS-LS student Markus Höpfler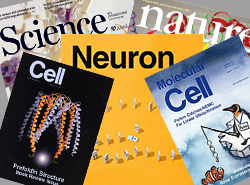 Hopfler, M., Kern, M.J., Straub, T., Prytuliak, R., Habermann, B.H., Pfander, B., and Jentsch, S.
EMBO J, 2019, [Epub ahead of print].
(IMPRS-LS students are in bold)
doi: 10.15252/embj.2018100368

Slx5/Slx8-dependent ubiquitin hotspots on chromatin contribute to stress tolerance

Chromatin is a highly regulated environment, and protein association with chromatin is often controlled by post-translational modifications and the corresponding enzymatic machinery. Specifically, SUMO-targeted ubiquitin ligases (STUbLs) have emerged as key players in nuclear quality control, genome maintenance, and transcription. However, how STUbLs select specific substrates among myriads of SUMOylated proteins on chromatin remains unclear. Here, we reveal a remarkable co-localization of the budding yeast STUbL Slx5/Slx8 and ubiquitin at seven genomic loci that we term "ubiquitin hotspots". Ubiquitylation at these sites depends on Slx5/Slx8 and protein turnover on the Cdc48 segregase. We identify the transcription factor-like Ymr111c/Euc1 to associate with these sites and to be a critical determinant of ubiquitylation. Euc1 specifically targets Slx5/Slx8 to ubiquitin hotspots via bipartite binding of Slx5 that involves the Slx5 SUMO-interacting motifs and an additional, novel substrate recognition domain. Interestingly, the Euc1-ubiquitin hotspot pathway acts redundantly with chromatin modifiers of the H2A.Z and Rpd3L pathways in specific stress responses. Thus, our data suggest that STUbL-dependent ubiquitin hotspots shape chromatin during stress adaptation.
---
2. May 2019 - 11:43