Publication of IMPRS-LS student Maike Kober-Hasslacher
Publication of IMPRS-LS student Maike Kober-Hasslacher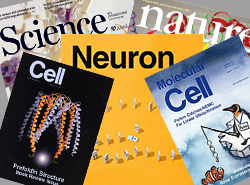 Kober-Hasslacher, M., and Schmidt-Supprian, M.
Cancers (Basel), 2019, 11.
doi: 10.3390/cancers11070941

The Unsolved Puzzle of c-Rel in B Cell Lymphoma

Aberrant constitutive activation of Rel/NF-κB transcription factors is a hallmark of numerous cancers. Of the five Rel family members, c-Rel has the strongest direct links to tumorigenesis. c-Rel is the only member that can malignantly transform lymphoid cells in vitro. Furthermore, c-Rel is implicated in human B cell lymphoma through the frequent occurrence of REL gene locus gains and amplifications. In normal physiology, high c-Rel expression predominates in the hematopoietic lineage and a diverse range of stimuli can trigger enhanced expression and activation of c-Rel. Both expression and activation of c-Rel are tightly regulated on multiple levels, indicating the necessity to keep its functions under control. In this review we meta-analyze and integrate studies reporting gene locus aberrations to provide an overview on the frequency of REL gains in human B cell lymphoma subtypes, namely follicular lymphoma, diffuse large B cell lymphoma, primary mediastinal B cell lymphoma, and classical Hodgkin lymphoma. We also summarize current knowledge on c-Rel expression and protein localization in these human B cell lymphomas and discuss the co-amplification of BCL11A with REL. In addition, we highlight and illustrate key pathways of c-Rel activation and regulation with a specific focus on B cell biology.
---
12. July 2019 - 13:53