Publication of IMPRS-LS student Francesca Pinci
Publication of IMPRS-LS student Francesca Pinci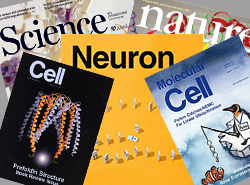 Pinci, F., Gaidt, M.M., Jung, C., Kuut, G., Jackson, M.A., Bauernfried, S., and Hornung, V.
(IMPRS-LS students are in bold)
J Biol Chem, 2020, [online ahead of print].
DOI: 10.1074/jbc.RA120.015248

C-tag TNF: a reporter system to study TNF shedding

TNF is a highly pro-inflammatory cytokine that contributes not only to the regulation of immune responses but also to the development of severe inflammatory diseases. TNF is synthesized as a transmembrane protein, which is further matured via proteolytic cleavage by metalloproteases such as ADAM17, a process known as shedding. At present, TNF is mainly detected by measuring the precursor or the mature cytokine of bulk cell populations by techniques such as ELISA or immunoblotting. However, these methods do not provide information on the exact timing and extent of TNF cleavage at single-cell resolution and they do not allow the live visualization of shedding events. Here, we generated C-tag TNF as a genetically encoded reporter to study TNF shedding at the single-cell level. The functionality of the C-tag TNF reporter is based on the exposure of a cryptic epitope on the C-terminus of the transmembrane portion of pro-TNF upon cleavage. In both denatured and non-denatured samples, this epitope can be detected by a nanobody in a highly sensitive and specific manner only upon TNF shedding. As such, C-tag TNF can successfully be used for the detection of TNF cleavage in flow cytometry and live-cell imaging applications. We furthermore demonstrate its applicability in a forward genetic screen geared toward the identification of genetic regulators of TNF maturation. In summary, the C-tag TNF reporter can be employed to gain novel insights into the complex regulation of ADAM-dependent TNF shedding.
---
28. October 2020 - 15:01