Publication of IMPRS-LS student Tsai-Hsuan Weng
Publication of IMPRS-LS student Tsai-Hsuan Weng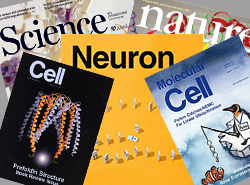 Weng, T.H., Steinchen, W., Beatrix, B., Berninghausen, O., Becker, T., Bange, G., Cheng, J., and Beckmann, R.
EMBO J, 2020, e105643, online ahead of print.
doi: 10.15252/embj.2020105643

Architecture of the active post-translational Sec translocon

In eukaryotes, most secretory and membrane proteins are targeted by an N-terminal signal sequence to the endoplasmic reticulum, where the trimeric Sec61 complex serves as protein-conducting channel (PCC). In the post-translational mode, fully synthesized proteins are recognized by a specialized channel additionally containing the Sec62, Sec63, Sec71, and Sec72 subunits. Recent structures of this Sec complex in the idle state revealed the overall architecture in a pre-opened state. Here, we present a cryo-EM structure of the yeast Sec complex bound to a substrate, and a crystal structure of the Sec62 cytosolic domain. The signal sequence is inserted into the lateral gate of Sec61α similar to previous structures, yet, with the gate adopting an even more open conformation. The signal sequence is flanked by two Sec62 transmembrane helices, the cytoplasmic N-terminal domain of Sec62 is more rigidly positioned, and the plug domain is relocated. We crystallized the Sec62 domain and mapped its interaction with the C-terminus of Sec63. Together, we obtained a near-complete and integrated model of the active Sec complex.
---
18. December 2020 - 15:01