Our Mission
Our Mission
The International Max Planck Research School for Molecular Life Sciences (IMPRS-LS) is dedicated to the education and training of the world's most promising young researchers in the fields of life science. Currently, around 160 students from all over the world are undertaking their PhD with us. The diversity in our PhD program, both in terms of people and research, is vital to our success as a cutting edge research school; around half of our students are German and the remaining half come from all over the world.
Our school's particular research activities center around three distinct but well connected research branches: our students and their supervisors strive to uncover molecular mechanisms regulating biological processes, analyze the resulting complex biological systems and decipher the intricate network of neural circuits leading to corresponding behavioral responses.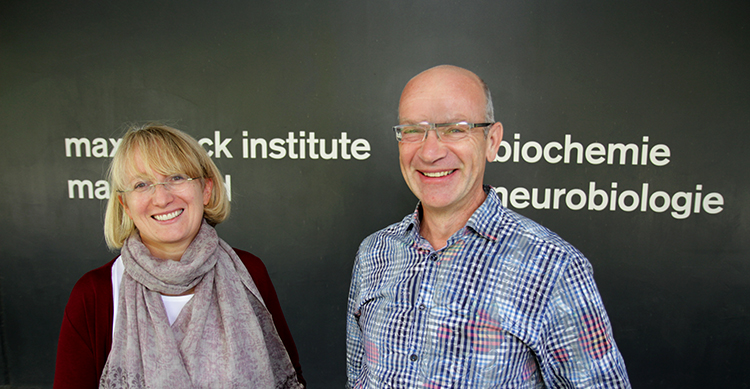 IMPRS-LS works closely with our research faculty and collaborative partners to ensure our doctoral program best reflects the needs of our students. We work hard to foster an inclusive environment defined by flexibility and care and aim to support our students to allow them to achieve their full potential in their chosen area of research. Key to this is the existence of a "Thesis Advisory Committee", which serves to supervise, guide and mentor doctoral students. Our successful approach to PhD student training and program organization speaks for itself; at the end of their studies, our students contribute to an average of 3 publications. An impressive 20% of our students have their work published in the top journals Nature, Science or Cell (approximately 50% thereof as first or co-first author).
We strive to encourage collaboration between faculty members and local partner institutions through the organization of both internal and cross campus events, thereby providing platforms for our students to communicate innovative and cutting edge research. These collaborative events help to establish a network of contacts with fellow students and senior researchers that become the basis for scientific interaction and that often happily lead to our students forming long lasting friendships. We believe that interdisciplinary research and collaboration is crucial to ensuring that the IMPRS-LS PhD program maintains its place at the forefront of research in molecular life sciences.
Whilst world class research is a central part of our program, we are also committed to providing our students with dedicated workshops and access to the most relevant training opportunities to ensure our graduates remain highly competitive in the job market. We are continually developing our curriculum to provide our students with the most up to date career development opportunities. Our students choose to be very active in their participation in these workshops and we are continually impressed and delighted at the ease at which they transfer into the professional job market following completion of their PhD.
At IMPRS-LS, we do not underestimate the importance of enjoying your free time in Munich whilst you are working hard towards gaining your PhD. In 2019, Munich was voted the 3rd best city in the world for quality of life according the Mercer Quality of Life Study and has so much to offer those lucky enough to call it home, whether you enjoy relaxing in a beer garden in summer or trying out one of the many local ski resorts in winter.
If you are interested in conducting world class research in a lively and dynamic environment, the IMPRS-LS PhD program is for you. Our program makes for a unique and unforgettable experience and the fact that 95% of our students would recommend the program to others speaks for itself. If you are talented, creative and enthusiastic about science, we would be delighted to welcome you to join us at the IMPRS-LS Munich.