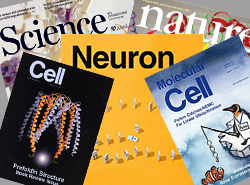 Eckl, E.M., Ziegemann, O., Krumwiede, L., Fessler, E., and Jae, L.T.
Cell Mol Life Sci, 2021, online ahead of print.
doi: 10.1007/s00018-021-03887-7

Sensing, signaling and surviving mitochondrial stress

Mitochondrial fidelity is a key determinant of longevity and was found to be perturbed in a multitude of disease contexts ranging from neurodegeneration to heart failure. Tight homeostatic control of the mitochondrial proteome is a crucial aspect of mitochondrial function, which is severely complicated by the evolutionary origin and resulting peculiarities of the organelle. This is, on one hand, reflected by a range of basal quality control factors such as mitochondria-resident chaperones and proteases, that assist in import and folding of precursors as well as removal of aggregated proteins. On the other hand, stress causes the activation of several additional mechanisms that counteract any damage that may threaten mitochondrial function. Countermeasures depend on the location and intensity of the stress and on a range of factors that are equipped to sense and signal the nature of the encountered perturbation. Defective mitochondrial import activates mechanisms that combat the accumulation of precursors in the cytosol and the import pore. To resolve proteotoxic stress in the organelle interior, mitochondria depend on nuclear transcriptional programs, such as the mitochondrial unfolded protein response and the integrated stress response. If organelle damage is too severe, mitochondria signal for their own destruction in a process termed mitophagy, thereby preventing further harm to the mitochondrial network and allowing the cell to salvage their biological building blocks. Here, we provide an overview of how different types and intensities of stress activate distinct pathways aimed at preserving mitochondrial fidelity.

---