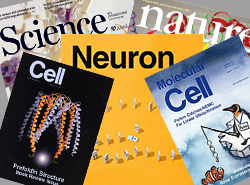 Reifschneider, A., Robinson, S., van Lengerich, B., Gnörich, J., Logan, T., Heindl, S., Vogt, M.A., Weidinger, E., Riedl, L., Wind, K., Zatcepin, A., Pesämaa, I., Haberl, S., Nuscher, B., Kleinberger, G., Klimmt, J., Götzl, J.K., Liesz, A., Bürger, K., Brendel, M., Levin, J., Diehl-Schmid, J., Suh, J., Di Paolo, G., Lewcock, J.W., Monroe, K.M., Paquet, D., Capell, A., and Haass, C.
(IMPRS-LS students are in bold)
EMBO J, 2022, e109108,  online ahead of print.
DOI: 10.15252/embj.2021109108

Loss of TREM2 rescues hyperactivation of microglia, but not lysosomal deficits and neurotoxicity in models of progranulin deficiency

Haploinsufficiency of the progranulin (PGRN)-encoding gene (GRN) causes frontotemporal lobar degeneration (GRN-FTLD) and results in microglial hyperactivation, TREM2 activation, lysosomal dysfunction, and TDP-43 deposition. To understand the contribution of microglial hyperactivation to pathology, we used genetic and pharmacological approaches to suppress TREM2-dependent transition of microglia from a homeostatic to a disease-associated state. Trem2 deficiency in Grn KO mice reduced microglia hyperactivation. To explore antibody-mediated pharmacological modulation of TREM2-dependent microglial states, we identified antagonistic TREM2 antibodies. Treatment of macrophages from GRN-FTLD patients with these antibodies led to reduced TREM2 signaling due to its enhanced shedding. Furthermore, TREM2 antibody-treated PGRN-deficient microglia derived from human-induced pluripotent stem cells showed reduced microglial hyperactivation, TREM2 signaling, and phagocytic activity, but lysosomal dysfunction was not rescued. Similarly, lysosomal dysfunction, lipid dysregulation, and glucose hypometabolism of Grn KO mice were not rescued by TREM2 ablation. Synaptic loss and neurofilament light-chain (NfL) levels, a biomarker for neurodegeneration, were further elevated in the Grn/Trem2 KO cerebrospinal fluid (CSF). These findings suggest that TREM2-dependent microglia hyperactivation in models of GRN deficiency does not promote neurotoxicity, but rather neuroprotection.
---